---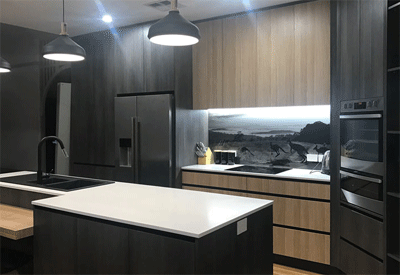 With the look and feel of real quartz stone. Evostone is a unique, innovative and versatile product that can transform any kitchen, bathroom and laundry with a range of warm, beautiful colours.
Find Out More
| | | | | | |
| --- | --- | --- | --- | --- | --- |
| White | White Sand | Everest | White Quartz | Grey Quartz | Desert Sand |
EVOSTONE
Exemplary Solid Surface for the home.

WATERPROOF
Evostone is the most hygienic work surface in the market, harmful germs cannot penetrate the non-porous (chipboard free) construction.

VALUE
The beauty of natural stone without the added cost, Evostone slabs come pre- finished & install ready in sizes designed for optimum usage. Evostone can easily be cut or trimmed with no expensive machinery required making it suitable for all cabinetmakers or DIY without the need for external contractors

DURABLE
Colour all the way through the 20mm thick pre-finished slabs allowing for scratches or marks to be easily polished and removed.

WARRANTY
Evostone has a 10 Year Limited Warranty.
---
Osborne Park
39 Howe Street, Osborne Park
Western Australia 6017
Phone Number : 08 9446 6333

Adelaide
14 Murray Street, Thebarton,
South Australia 5031
Phone Number : 08 8352 1888

Bunbury
31A Shanahan Road, Bunbury,
Western Australia 6230
Phone Number : 08 9725 4812

Wangara
Unit-2 6 Ismail Street, Wangara,
Western Australia 6065
Phone Number : 08 9309 6333

---
About Galvin Hardware
On the 16th of May of 1983, the existing company of C. Bert Hood Pty Ltd was purchased as an addition to the Galvin Group Of Companies.
The main business activity of C. Bert Hood was builders hardware, but this direction was changed to specialist suppliers of hardware to the cabinet and furniture trades. This also coincided with the change of name in 1985 to Galvin Hardware Pty Ltd.
The second branch at 12 Sylvan Way, Bunbury was opened in April of 1992 and services the whole of the South West corner of Western Australia.
The first interstate store for Galvin Hardware started trading in Adelaide during April of 1993. In November 1994, the branch was moved to a bigger premises at 14 Murray Street, Thebarton, to further enhance its ability to service the South Australian market.
A momentous step for Galvin Hardware was taken in December of 1997. The entire operation of Galvin Hardware's head office was relocated from Guthrie Street to a site next to Roy Galvin & Co at 39 Howe Street, less than one kilometer away. This site was formerly occupied by Galvin Concrete and Sheetmetal Pty Ltd, who are now located in the industrial estate of Wangara, north of Perth.
February of 1999, saw the Galvin Hardware name established in the industrial estate of Wangara, at Unit 2, 6 Ismail Street, some 20 kilometers North of Perth.
The success of Galvin Hardware and the Galvin Group can be attributed to three principal reasons:
The customers of whom there are many hundreds
The loyalty of the Galvin staff
Our adherence to our well publicised business policy.
Company Policy
You, the customer, are the most important person in this business.
In Person |
By Telephone |
By Fax |
By Mail |
By Email
You, the customer, are not dependant on us, we are dependant on you.
You, the customer, are not an interuption to our work, you are the purpose of it.
We are not doing you a favour by serving you, you are doing us a favour by giving us the opportunity to do so.
You, the customer, are not someone with whom to argue or match wits.
Nobody won an arguement with the customer.
You, the customer, are somebody who brings us your wants.
That is what a customer is, in our business or any other business.

THEY PROFIT MOST WHO SERVE THE BEST.
Copyright © 2000 Galvin Hardware Pty Ltd.